Go therefore and make disciples of all the nations, baptizing them in the name of the Father and of the Son and of the Holy Spirit, teaching them to observe all things that I have commanded you; and lo, I am with you always, even to the end of the age. Matthew 28:19-20
From the beginning of Calvary Chapel of Sahuarita, pastor JK felt that the Lord wants us to put a great emphasis on missions. That is what our Lord told us to do and that is where our Lord's heart is.
Here are four ministries that we support. They are worthy ministries. Please pray for them and visit their websites.
---
TURKISH MUSLIM MINISTRY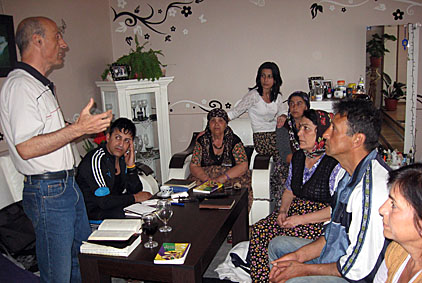 When pastor JK and a small team of a short term missionaries from our church visited Shumen, Bulgaria in 2007, they were introduced to a couple – Mendu (husband) and Seniha (wife) who were formerly Turkish Muslims. After they became Christians, their hearts were yearning to evangelize the Good News of Jesus Christ to the fellow Turkish Muslims from their home town.
They drove their cars twice a week, mostly during the evenings, to do Bible studies and prayer meetings, because if they visited the town during the daytime, some Muslims would attack them or sabotage their vehicles.
In pastor JK's opinion, Mendu and Seniha are two of the most precious and humble people he has ever met. If you'd like to contact Mendu and Seniha, please email them.

For more information, click this link
---
MEDICAL MISSION TEAM FOR INDIGENOUS TRIBES IN NORTHERN MEXICO


Dr. Ken and Ruth work in church planting and medical ministry. There is an international team of church planting missionaries who they work alongside to see the gospel planted in the hearts of the people. The missionaries working full-time in church planting learn the tribal dialects so they can share with the people in their heart language as many of the people don't speak or barely speak Spanish.
They are accepted into the indigenous communities by invitation only and so are involved in community development projects, literacy and medical work. This also opens the homes and hearts of the people to develop one on one friendships, trust and receptivity to our message of Christ. If you'd like to contact Dr. Ken, please email him.

For more information, click this link
---
"ONE FOR ISRAEL" MINISTRY IN THE NATION OF ISRAEL




Established in 1990, ONE FOR ISRAEL is reaching Israelis with the Good News of Yeshua, training and equipping the Body of Christ in Israel, and blessing the Israeli community with Jesus' love, part of the miraculous restoration of the Jewish people. ONE FOR ISRAEL's ministries include evangelism, a Hebrew-speaking evangelical Bible College, discipling and training Israelis in their own language, a ministry to the Israeli Defense Force, aid to Holocaust survivors and pro-life families, and Jewish and Arab leadership outreach. Their ministry is also online, as thousands of Israelis are responding to our Gospel outreach. Calvary Chapel Sahuarita supports the Israeli Defense Force Ministry, which exists as a spiritual armory and training center to support believing soldiers, equipping them to stand strong in their faith against the spiritual attacks of the enemy, looking to Jesus as their commander-in-chief no matter what battles they face.

For more information, click this Bless Israel With Yeshua – ONE FOR ISRAEL Ministry